Better than our competitors and save on cable labels by 26%
Specialists in Cable Management and labelling products our knowledge will ensure your low Voltage infrastructure projects are trouble-free. We will save you lots of time and money.
Even more, our supply teams recommend many specialist products making any Low Voltage cabling project trouble-free with better products. We supply the best and most cost-effective products for low Voltage and structured cabling around the world.
Better than Cage Nuts
Cage Nuts are all over the server racks, and it's now time to move on from the OLD-type cage nuts and save your fingers and time, how many times have we shed blood trying to pull the cage nuts in and out? Now it's much better and the time and finger bleeding is over with the new Cage nuts. 
The /dev/mount is significantly better than a conventional cage nut in terms of safety, simplicity, and speed. Due to the sophisticated snap-in function, the /dev/mount is mounted in seconds.
The /dev/mount is compatible with 19-inch rails with square holes that allow standard server rails to be installed. The /dev/mount consists of only one piece, making hardware installation much faster.
The /dev/mount is compatible with 19″ rails with square punched holes that are capable of installing standard server rails.
They are just one piece and require no tools, and are easily installed. Setting up a network rack can be an exhausting and sweaty job.
Sweaty hands and tiny screws in uncomfortable positions are a bad combination – taking up valuable time and could even lead to back-related injuries. The easier handling of our cage nut alternative speeds up the process of mounting 19″ equipment, saving you time and cost. Simplify device mounting. Save time and nerves!
Our cage nut alternative can be softly and comfortably mounted onto the 19″ rail of the network rack. With our /dev/mounts you can easily fasten hardware or just put the /dev/mount through the square punched holes with the bolts facing you. Place the switch in the rack and put it on the bolts. Now take the hex nuts and fasten them by hand – no tools needed.
Two are required for each unit.
Setup.exe A One-Person Installation
The Setup.exe is an innovative network installation tool, enabling one technician to do the job of two. It secures the weight of IT hardware, such as switches or patch panels in servers and network racks until they are securely screwed in. Mounted inside out of a rack, the Setup.exe creates the ideal workspace to place a laptop on or configure a switch. It is now compatible with 19″ rails with threaded holes and square punched holes.
Less staff needed = less costs
Although the demand for IT technicians is very high, the amount of IT technicians actually existing is very low. That's where our Setup.exe comes in handy. With our network installation tool, one technician can do the work of two – as he doesn't need assistance for holding heavy and expensive hardware. Setup.exe is the assistant.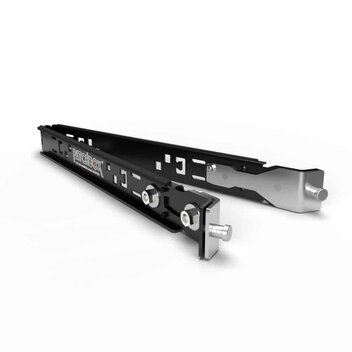 Faster installation
Not only do you just need one technician for the job of the two, but the job is also done way faster. Our Setup.exe is mounted in seconds. Installing rack and cabinet equipment is very easy and way faster – and therefore cost-saving.
Use the Setup.exe both ways
The Setup.exe can be used for multiple purposes: our smart network installation tool can be mounted facing inwards of the 19″ rack to easily guide the switch into the network rack. The Setup.exe can also be mounted facing outwards of the cabinet. By doing that, the rubberized side on top acts as a shelf to carry your laptop safely.
Your new assistant
A colleague that is never on sick leave. A colleague that holds heavy and expensive hardware for you, while you are mounting it. This is Setup.exe, a hardware installation tool for network racks.
Cable labels
Our products are made in the USA to support the structured cabling installations for all Network labelling, the quality is better and costs less than any UK or European competitors.
Over the years we have worked out the best methods and labelling software that help you with all marking, and wire marking linking this with our new labelling software makes any cat6 patch cord stand out.
Structured cabling with the best wire labels helps and saves money in the long run. Any Cat6/7 structured cabling wire markers that are not used or installed will cause problems later. Our wire labelling and structured cabling teams know that the best come from cable labels in the UK.